Is Lavender a Flower or a Herb? (Explained)
Who has never heard of the lavender? It is famous for its intense scent. But we need to know more about lavender and in this article we answer the following question: Is lavender a flower? Is lavender a shrub? Is Lavender a herb?
Its cultivation in the garden or in pots , thanks to the delicate that characterize it, manages to give a touch of color in all the environments in which it is present. Find out in this article everything you need to know about lavender!
What is a Lavender?
Belonging to the Lamiaceae family, lavender is a herbaceous plant, native to the Mediterranean basin. Its fragrant flowers make their appearance in summer and fill the fields where they are cultivated with a pleasant scent. 
The lavender is a plant family Lamiaceae which contains some thirty known species. The scientific name of lavender, lavandulae , comes from the Latin verb lavare , because this flower helps to wash both physical and emotional wounds.
Lavender loves locations that are as sunny as possible and a well-drained, calcareous, rather nutrient-poor soil. If you travel to the south of Europe, you even get the impression that it can still thrive on almost pure limestone gravel. 
Well-drained soil is vital for lavender. Winter hardiness depends crucially on a location with very permeable soil and lots of sunshine. Any waterlogging, especially in winter, can kill it!
What type of plant is lavender?
Lavender is a semi-shrubby flower plant with woody stems, long narrow evergreen leaves, and small, purplish-blue flowers with a tubular calyx. But despite its peculiar shape and color, lavender is known above all for the fragrant aroma it gives off.
Very resistant, it needs a lot of light and direct sun, although in winter it supports frost well . It grows without problems both in rocky areas and land dry and clayey, and pots and planters .
Lavender is a herbaceous plant that develops in the form of a shrub, does not reach large dimensions (generally it reaches a maximum height of half a meter or 1.64 feet) but tends to develop very wide, in fact its branching makes it a very dense plant starting already from ground level.
Its leaves are positioned with respect to the stem in an opposite way to each other and are acute in shape, while at the base of the shrub they are very dense they become more sparse and arranged in a linear manner towards the tip of the branches.
Is Lavender a Flower ?
The lavender (Lavandula) is a flowering plant with flowers purple fragrant that perfumes flowerbeds, planters and window sills. If it is well protected in winter, lavender will grow back year after year.
Lavender has a compact, pillow-shaped habit with upright, highly branched and wiry shoots. Its needle-shaped, gray-green leaves and the mostly violet-blue, aromatic-scented inflorescences are characteristic. 
Lavender is a plant capable of flowering in the worst heat waves. This Mediterranean ensures uninterrupted spring and summer flowering (from June to August). Its tubular blue or lavender blue flowers are honey-bearing and attract bees. 
Added to this is its unique fragrance, fresh and light, which can be preserved even when the plant is dried.
These are several rows of lively rows of flowers that form a spike-like inflorescence that is up to 8 centimeters(3.1 inches) long. Lavender is perennial and reaches a height of about 60 to 100 centimeters (1.96 to 3.2 feet). There are also varieties with pink or white flowers. Flowering time is from June to August.
Its unmistakable aroma has made this plant the quintessential jewel of aromatherapy . In France it is widely used to make perfumes and eau de cologne.
It is also used to perfume and repel insects from cabinets and drawers, in which a bag of lavender flowers is placed. Its bushy flower spikes are steam distilled to produce the essential oil used for muscle aches and headaches.
Want to know the most effective methods to clear a garden full of weeds? You can clear weeds from the lavender!
Is lavender a perennial flower?
Botanically speaking, all lavender species are not perennials, but subshrubs. This means that in winter lavender does not completely retreat into the subterranean overwintering parts like the perennials, but that it overwinters above ground with partly woody, partly herbaceous, winter-green shoots.
A valuable aspect in garden design that should be taken into account as it does gives structure to a wintry garden. It can be cultivated just as well in pots and tubs (5 liters and larger).
Is lavender a Shrub?
The lavender is a perennial or sub-shrub that has a place in every garden and brings a Mediterranean style . It can be cultivated as far as the Paris region, even if it is in the Mediterranean that it is the most beautiful. 
Herbaceous , it adorns a rock garden or a bed ; woody, it creates a border or a low hedge. Lavender is prized for its intensely scented flowers and foliage with an unmistakable aroma. 
It is an easy to grow shrub that grows easily in sunny places, with well-drained soil or, if you only have a balcony, in a pot.
A quintessential southern shrub, lavender is known and appreciated for its light bloom in the form of thin purple-blue spikes that attract butterflies and bees in late spring. It is also easily cultivated, enduring the cold as the heat wave.
Is Lavender a Wildflower ?
In general, the Lavandula angustifolia is only planted in gardens as a perennial plant before and rarely wild it.  The "real lavender" is a classic Mediterranean plant that occurs wildly mainly in the countries of the Mediterranean Sea, including Greece, southern France and Italy. 
It can be found there especially in dry, barren and sun-drenched high altitudes in regions with calcareous soils. An attractive tourist region with a large distribution of lavender is the French Provence, where lavender fields are often to be found.
It is a plant that is appreciated for its smell. It is the most appreciated of lavender for the olfactory quality of its essential oil . 
In the wild, it grows mainly in Provence but it can be cultivated in more northern regions, especially as there are many cultivars .
Wild lavender, also known as "lavandula", belongs to the family known as "lamiaceae" that includes more than 200 varieties of plants. 
This species has been recognized as the official plant of the country of Portugal, and the truth is that it is a fairly frequent flower in different types of landscape since it is extremely resistant.
Here is a simple guide how to get rid of bugs in the garden soil with 12 proven methods!
Is Lavender a Spring Flower ?
Perhaps, lavender is the flower par excellence of the summer. One of its strengths is resistance because it can survive both in cold environments (down to -20 ° C) and in hot and muggy environments. 
Lavender flowers can be dried in a dark, dry and ventilated environment, simply making bunches to hang "upside down" in a suitable environment. Once dried, the lavender flowers can be placed in cloth bags to perfume the linen or create aromatic potpourri.
Is lavender a Fall Flower?
The flowering of this lavender occurs between late spring and early summer , its flowers have a purple color and the height of the plant is usually around 80-120 cm. when it is with flowers.
In the first place we find what is commonly known as  English lavender or also known as fine lavender. 
Possibly the best lavender for the quality of its essential oil. Its flowers are small and have a purplish-blue color. 
Its flowering process is highly variable, concentrating the greatest presence of flowers during summer .
 Plant your lavender preferably in spring, when frost is no longer to be feared. Space the plants 40 to 50 cm apart (count 5 feet per m2). 
Plants purchased in containers must be "dressed", untangling the roots and eliminating the bun (the roots become too long in the pot and which may suffocate). Fall planting should be reserved for regions with a mild climate.
Lavender Types
Common Types of Lavender
Types of Lavender
Subspecies(varieties)
1. Lavandula angustifolia (English Lavender)
1. Dwarf Blue
2. Folgate
3. Hidcote Blue
4. Miss Katherine
5. Hidcote Pink
2. Lavandula stoechas (French/Spanish Lavender)
1. Ballerina
2. Fathead
3. Anouk
3. Lavandula ( latifolia) spica (Portuguese Lavender)
4. Lavandula dentata
5. Lavandula multifida (Fern leaf lavender)
Lavender is a Lamiaceae , a botanical family formerly called Labiatae because the plants that compose it have a notable common characteristic: their flowers show a corolla with 2 lips, the upper forming like a helmet, the lower trilobed and flat. 
Other characteristics easy to distinguish: quadrangular stems, evergreen, downy and fragrant leaves , always opposite. Thyme, oregano, mint, sage, rosemary and a large number of so-called "Mediterranean" plants are part of this family. 
There are about twenty species of lavender listed, all native to the rim of the Mediterranean and the African coasts to south-east Asia, subservient to dry, arid and poor soil areas .
Lavender comes in the form of a more or less large and bushy shrub depending on the species . It wears mauve blue flowering spikes , very fragrant. 
This famous and very familiar scent of lavender is particularly appreciated in perfumery as well as in areas that concern cleanliness.
Lavandula angustifolia (English Lavander)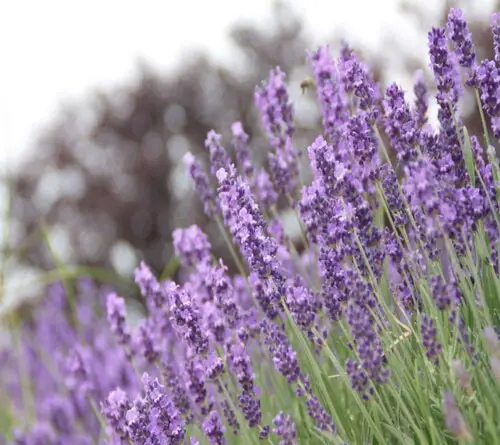 The real lavender is probably the most popular type of lavender, which is also most commonly grown worldwide. It can be found at altitudes of up to 1600 meters. 
Since it is originally at home on warm, rocky slopes, prefers calcareous, drier soils in the garden. It grows as a subshrub and is almost completely hardy. 
The leaf color varies from dark green to silver-white. The flowers in turn show different shades of blue and purple, but white and pink-flowering varieties are also present within the species. 
The aroma of real lavender is rather mild and subtle. It is therefore used both as a culinary herb and as a fragrance and as a medicinal plant.
This species is endemic to both France and Italy. It is characterized by its height, since it can exceed one meter(39.3 inches). 
As for its leaves, they measure around 6 cm and stand out for their intense green color. 
Its flowers are presented in inflorescences, that is, grouped on the same stem and can reach 9 cm. The essential oil is extracted from this variety of lavender and it is also suitable for preparing infusions.
Lavandula angustifolia is a mountain lavender , which grows between 800 and 1200 meters of altitude. In the wild, it is found exclusively in the dry mountains of Provence. It is small in size , about fifty centimeters in height, with thin leaves. 
Its flower stems consist of a single long, thin spike with a characteristic mauve-blue hue, varying between pale mauve and purplish-blue. Its fragrance is fine and delicate , hence the name of "fine lavender" that perfumers initially gave it.
Lavandula stoechas (French Lavander)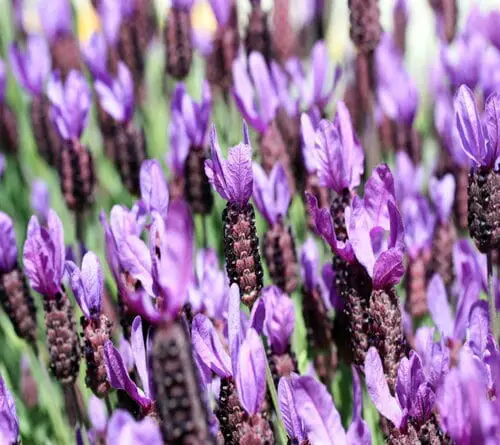 In its original homeland (France), in contrast to real lavender, it does not grow in mountain regions, but near the coast.
The French Lavander prefers lime-poor, sandy soils. Lavandula stoechas (French Lavander) grows as a shrub and is slightly more woody than Lavendula angustifolia. 
It is characterized above all by its long flowering period until August or even into September. The flower colors of this species range from pure white to strong pink and purple tones. The inflorescences and bracts can also be colored very differently. 
The topped lavender also produces essential oils with a strong aroma, which are, however, not used economically.
This type of lavender has the largest flower, hence, without a doubt, it is the most showy plant of all. Not surprisingly, it is the favorite of those who seek to add a touch of color to the home and, of course, aroma. 
As in the previous case, the flowers are distributed in spikes and exhibit a very intense violet color. Like the Lavandula angustifolia, it draws attention for its medicinal properties.
Maritime lavender or even "butterfly lavender", "stoechas lavender". Smaller in size, around 40 centimeters(15.5 inches), this lavender (Lavandula stoechas) indeed displays, overhanging its floral spikes, curious bracts that have the appearance of a tone-on-tone butterfly delicately placed on the flowers. 
The ears themselves are short and stocky , almost square which gives off a camphoric aroma.
Do you want to know more about France Flowers? I have for you the top 15 most popular flowers in France!
Lavandula latifolia (Portuguese Lavender)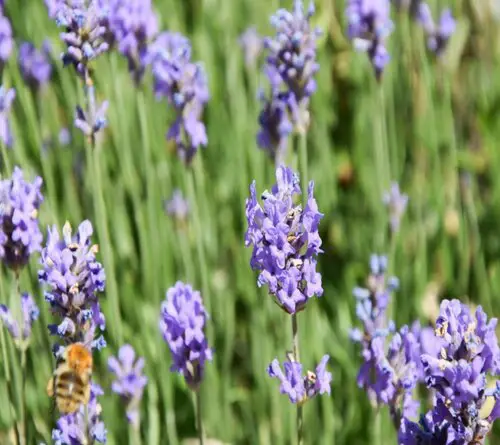 The Portuguese Lavender is better known by the botanical name of Lavandula latifolia can be found in higher regions of the Mediterranean (up to 600 meters above sea level). 
Lavandula latifolia (syn. Lavandula aspic) is a shrub that grows at low altitude , below 800 meters. Taller, around 1 meter tall, it displays broad, downy leaves that are always gray-green and fairly short , stocky flower spikes on branched flower stems. 
Therefore it prefers calcareous and rather dry soils. Lavandula latifolia survives low temperatures down to -5 ° C unscathed in our latitudes. The shrub can reach a height of one meter under ideal growth conditions.
However, it is characterized by a very strong aroma and can be used very well for scented potpourris, for example. Because of its noticeably large leaves, it is sometimes referred to as "broad-leaved lavender". 
The color of the flowers and leaves does not vary as much as in the other species, as hardly any breeding work has been done.
Curiously, the aroma that this species gives off is not entirely pleasant, contrary to what happens with most varieties of lavender. However, the beauty of its 10 cm long purple flowers makes it stand out as a splendid ornamental plant.
The whole expresses very camphorated notes, especially when flowering is in progress, from June-July.
The properties of lavender
Lavender, and in particular its essential oil  – rich in linalool, linalyl acetate, limonene, cineol, camphor and alpha-terpineol – modern herbal medicine recognizes sedative, antispasmodic, antifungal, antiseptic and anti-inflammatory properties.
Also as a pain-relieving action comparable to that of tramadol, a synthetic opiate used in the treatment of pain. 
Phytotherapeutic studies have also shown that lavender is able to inhibit the release of histamine in allergic reactions and to effectively counteract various bacterial strains, such as  methicillin resistant staphilococcus aureus and  fecal enterococci resistant to vancomycin. 
In addition, lavender essential oil has also been shown to have antifungal and acaricidal properties.
Is Lavender a herb?
Lavender is not only a popular ornamental plant, it is also an extremely versatile herb. The essential oils of the plant are used as fragrances in numerous cosmetic products. As a culinary herb, lavender gives many Mediterranean dishes a Mediterranean touch, and as a medicinal herb, it can sometimes work wonders.
Lavender is an excellent culinary herb that can be used in numerous recipes. Both the flowers, the leaves and whole branches are used. Care should always be taken to use real lavender (Lavandula angustifolia) and not, for example, the crested lavender. 
The real lavender has an unmistakable spicy and camphor-like taste that is sometimes flowery and slightly bitter.
Conclusion
Lavender is a semi-shrubby aromatic flower plant , common in many Mediterranean gardens . Its easy cultivation makes it a safe choice in not very rich soils, such as dry and clayey ones.
It is used as a medicine thanks to its antiseptic properties and also a decorative plant because of it's color and scent which is also used for aromatherapy.
There are more than 30 species of lavender, all of them belonging to the Lamiaceae family. Its scented bluish-lilac spike-shaped flowers crown its long, branching stems.